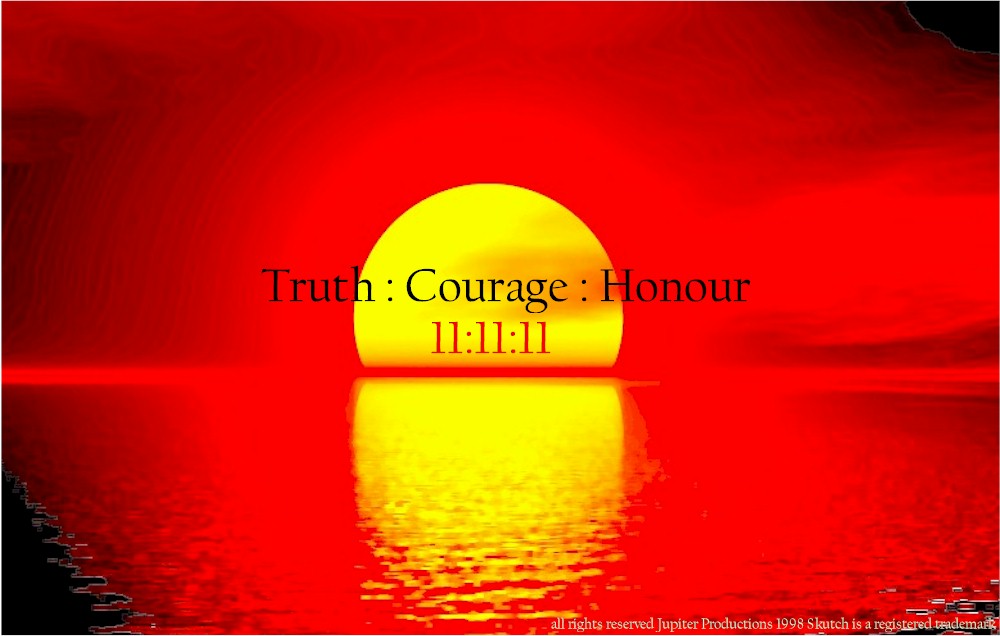 David
Said: 'it will be alright'
11:11:11
'The Wind will drive all your Shepherds away and your allies will go into exile. Then you will be ashamed & disgraced because of all your wickedness'
'It will be alright' I said hugging the Poet - he lay still on his back in recovery and I resolved that our families interests were safe and that his recovery was best served in the spirit of recovery rather than the pity of the situation and if he awoke crippled then I would ensure he'd at least have had a wage as long as necessary.
He had told me, I was like a Brother......
In reality though, it made no different whether he was around or not. Separation was necessary for our relationship as it had evolved over a long time through complacency to invalidate any future growth for the business. He had expressed a desire for succession planning in a move north to Queensland with his cousin and to own a gun shop. The only excitement I craved was my business life and Thursday nights, spending most of my past time with my Children & once a week with Music. Excitement had come for me with much gusto each week, having the gift of no expectations, improvising music in a collective vibe with such great & talented friends:
And Good friends were hard to find......
I found myself always to be a free thinker, tough for other physicists; and well for almost everyone else in the sciences - of the nonsensical magic found in the collective spirit that brought so much to the muse, discovering enjoyment as a concept of creation; and in a much more profound way its relevance was toward innovation akin to what our elders called - the Dreamtime. I started to contemplate, a connection in our conscious endeavours when a group of friends just made music up, as cohesive and magic as life could be. The dreams of our ancestors led them to consciousness before discovery that we could not measure accurately. This charter I was drawn too, was further enhanced by this young man named Sean, my brother in -law, the Poet's Son. Sean had created a Thesis in a large purple scrapbook, which he named 'Big Rhea's Theor 'y' - named after the Matriarch of Greek philosophy & Theatre. 'Uranus must be free' - he'd say. I had seen him madly working soon after Christmas day and well, the rest is history. My contemplation of the moments I felt improvising music had led me to consider & study ancient knowledge, Entanglement, Healing Sounds, Fibonacci codes, resonance & matter - we knew the Earth bathed in mostly Dark Matter, and in the quantum field that all atomic structures were Spinning and moving without additional forces that defied the known thermal laws of temperature & matter.
Miracles are profound......
I had been quite successful in business until one day overhearing the new Manager of Affairs unaware that I was listening around the corner, talking to a colleague of me in an offensive manor. I committed myself to his 'Drama' and with much vigour to teach this nasty soul a little lesson at a later date for it seems to me these actions were so perverse. I was intrigued of why the conversation had needed to be conducted about the Man who actually paid his wage each week. I discovered more, that Mr Piggy had become Poet's pet adversary, akin to the scoundrels written of by Socrates. But as there were no statues for critics I let it go for the time being. I had been given advice by these honorary Poets much in the past, of those who felt more than obliged to comment on my creative work even though I hadn't asked for it. It was always my point of honour to give good intentions with service to all people and so
the 'Drama' could be given back to the swine at most appropriate moment......
My business profession was in Engineering and Physics, but lately due to these recent personal circumstances, I find myself spending most of my days at an old concrete site office that's cheap to rent. My business and private life, however - had been destroyed. Anyway I have been walking quite a bit in the mornings, to relieve my mind from these anxious times, around the beautiful foreshore of Sydney Harbour. My totem, the Dragonfly, has been missing for over two years now. The Japanese believe it is the messenger and when it appears cuts through all that is false and I needed a sign. I have been interested in documenting my thoughts on rising sea levels and if climate change had extinguished the species I loved so much - so many strange weather events were occurring. As I engage on Social Media, many people were concerned for their Children's future
The Age of Communication was here......
It seemed to me that intelligence to had gone missing in leadership. The masses were blogging wildly, with distasteful messages online to Politicians who didn't seem to care anymore and certainly were serving the banks over the people. The magnificence of our ancient cultures advanced engineering methods defied all modern logic but, where had it gone when it could provide so much to modern life. The Art of Conversation had to be rekindled for life's struggles, collectively, but without the entanglement created by emotion. It seemed everyone in the minority was hurting. Small printed terms & conditions ruled business intentions and our Words varied the Truth. Sean spoke of the conscious shift he felt that had to come, simplifying this complex life with word structures that gave people there only true protection. He believed that if you lie, then at some stage it would come back to haunt you.
A passion for the truth......
I have learned you cannot make anyone happy or sad - emotions were simply a mechanical function of the environment & people you were surrounded by and that as much as you can give to your friends, even members of your family, some will absorb it all, eat your food and drink your wine, take your handouts, yet upon hearing one allegation or opinion they start looking at you quite differently. The disease you have acquired raises oppression within and after questioning oneself to the enth degree the depressive states of anxiety hang above you like a veil, as if they had shed some damning personal truth over your existence. Such emotional abuse therefore, I had to learn, could only be purposeful. Discovering these opinions of the Poet were incredibly surprising for me although on reflection was his true nature all along with other employees.
for the perverted reasoning of acquisition......
These Days my work in poverty has become quite profound, satisfying & elemental. I am also compelled from Sean's work to write more philosophy of how our economy could move forward collectively with additional Micro-Business and as the water rises I offer an instinctive conviction that may prove unique to town planning with the engineering that builds life skills. As I am conducting, and for many, an unrealistic charter of work, I really believe my young brother in-law's work is gifted from the Universe and that he is an empirical genius like Einstein. The book is mesmerising - it has quaint Philosophy that can be understood immediately. The Algorithms, drawings; I don't quite see how Sean could known so much about Physics and yet most of his work was beyond what I had learned over many years training to be a physicist. I have started to consider the opportunities of this planet a little better. Reading Sean's scrapbook was one of these profound moments of life
a 'Theory of Conscious Change'.
I've wondered quite a bit, being alone, will this new age of communication provide a collective change to consciousness, as people awaken to the propaganda we've endured since the first world war. Could survival become a little more simple, recognizing 'the power of life over the controlling forces of time' as more appropriate principle to lead economy. The Worlds supa-power was a Bank and our greatest engineers could only burn dirty fuels for inefficient movement and that polluted the sky. Sean's work centred on how Power was incomplete and that it had to be absorbed before it was useful. Well that led me into thinking for weeks on how I could rewrite Einstein's theory of relativity - to align with quantum mechanics, but all in one formula. Was 'time' absorbing us and had the macro-world left out space in their model's of economy? And could we manipulate time & space in the future when the bandwidth of our future survival seemed to be narrower.
Profit from prophet......
It is quite challenging to consider the word 'the Ark' in Sean's book. An Island that has floated economically in Micro-Diversity, successfully for over 60,000 years without any major wars. As astrology talks of Blood Moon's and planetary alignments as hammers in the sky I know it is an exciting time for Mankind, but only by building and repatriating our homeland for its own agenda, as this Island was the oldest known culture to survive continuously on Earth - this land was a sacred place. Sean book describes the head of state as needing to be from a Matriarchal agenda, as he points, out every Macro and Patriarchal economy throughout History has failed. I then found this logic could already be found here in the bloodline of our Elders , who past & present, looked above to the Clouds for their Dreamtime. It is a Time for Courage and also.....
Kunapipi - A Queen over this Sovereign Nation......
© C O P Y R I G H T J U P I T E R P R O D U C T I O N S 1998 SPINNING AROUND IN JUPITER ® S K U T C H ® (ALL RIGHTS RESERVED)