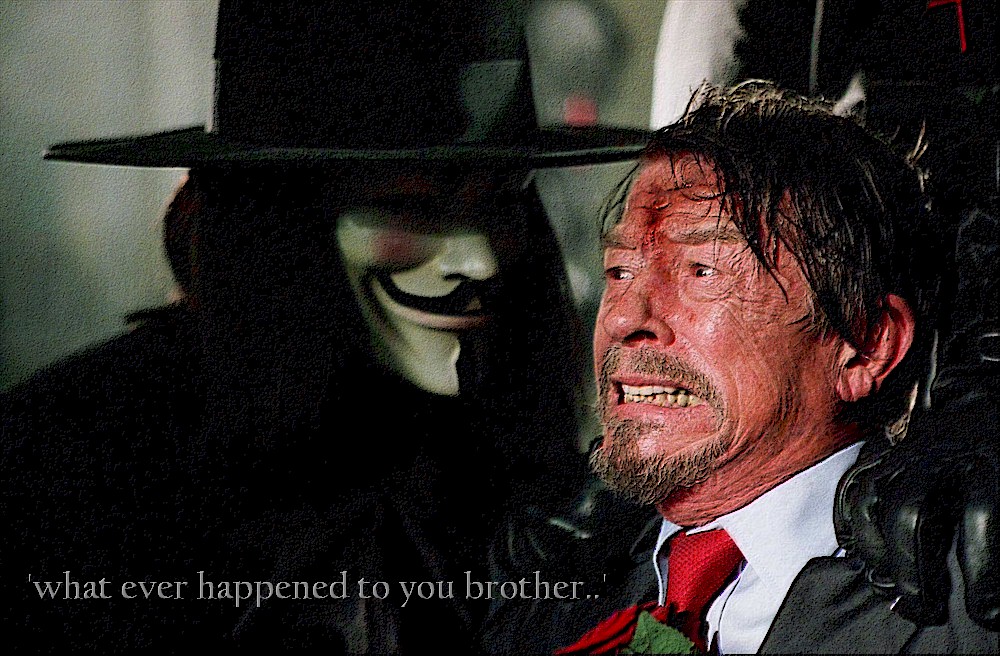 My B r o t h e r
The Poet
11:11:11
The problem of evil has been refined over hundreds of years. The Solipsist, I encountered, had said I was like a brother, but behind the scenes I found he had been creating an unacceptable vision of me, to gain all my assets and maybe, to plume himself of his own bastard virtues. The Poet of this story also beckoned my Children, my wife & my Mother on the religious foundations of moral to justify my removal from the company I started, but more specifically, as two against one, his case could not lose. So,
What happened to you Brother?.....
What was the crime that had led you to change so considerably after that accident. Was it jealousy of my Patience or was it all those Orgies and filthy dramatic affairs Mr Piggy said you weren't invited to. I've wondered of your ability to actually consider people with any form of Empathy. The Drama that you two have manifest should receive a gong, allowing someone who loved you to be destroyed for financial gain. To be a great critic, first one has to be a great Man and unfortunately those qualities are missing from your DNA. At some point you'd have to consider, that Mr Piggy too may be thinking of char grilling your small penis to profit himself. Such comfort you must feel trusting a man who loves to chitty chat about others so liberally. Such an wonderful character you've exposed - how proud you must feel looking at your face each day,
but then again, Mr. Piggy may not be able to find the insertion point......
For every force there is an equally opposing & opposite force, but maybe you didn't consider that whilst you were abusing my Children's future. I believe that the opposite will one day bring a much closer scrutiny over your criminal activities that must have been a part of our business life for so long. The facts will come out of this whole affair and I dare say I will be more than glad to assist curiosity of others when the time is right. Maybe I could arrange an interview with Ophra so you can give your reasoning to lance that prick between your ears. My dear Poet, I like most, would love to hear excuses of how you can actually take any pleasure in defaming your own family, closest friends and acquaintances, in stories you embellish to control the laughter.
What an extremely funny nick name that loud mate called you - the Granny fucker......
Were you frustrated each time you visited here, unable to make the conquest that you so desperately desired to bring more fodder to brag about in front of the boys. The poor woman needs to see the light of your past so she can understand the tragic nature of her life in partnering you. There is so much more to tell; the Simpson's and the Simpleton, Now what was her name; the one you'd bragged about in quaint detail over the back of the bike? You were stealing from the accounts on the side weren't you dear brother, like that jewelers employee you were so infatuated with: I can't recall her name either, but as a psychologist will say: people who present such damming facts have to be the guilty ones and to my mind, it was you who was never quite that disinterested spruiking of moral. To think I'd wasted so much time listening to such a BS artist.
'I don't know why I keep her around'.......
I've wondered how much Money you quietly stole on the side, thinking about Country properties and Winnebago's - succumbed from my own blood sweat and tears - lining your own pockets, while sitting there each day sullen, expecting that everyone else should be doing all your work; and yet with indignation, you were stabbing us all in the back - if only I knew you. A never ending story, how your own Family were a side show, manifesting such laughter at their expense. It seems there is only one perfect being on this planet and there probably is: its just that 'its not you' and those real character flaws, raise questions of trust, your actual ability to see your own face consciously without feeling any guilt. Could any person feel confidence in trusting themselves with you, when speaking face to face, knowing you will categorize them at some point and belittle them in another, for laughter.....
as you have done to your own wife, your Brother and your daughters husband David......
If I were a gambling man I'd bet the turning point of these matters will come unexpectedly, with sobriety, of course, denial - and there is little guilt on my part in making this account available to others, considering my Children told me to 'fuck off' from your conceited drama. I just could not understand how a person can assail on such a spectacular journey into the dark matter. The collective teaches us resignation and inculcates courage to wait for such outcomes and they will come. I appeal to your imagination my dear Poet, how one will feel when discovered as having such deep seated imperfections and what the truth can do if it is popular with others you abuse - but then again to be able to understand your reverie, that is so appalling, so humiliating, the character could only be categorized as having a mental illness. The truth resists such emptiness.....
and that is what is inside of me right now......
© C O P Y R I G H T J U P I T E R P R O D U C T I O N S 1998 SPINNING AROUND IN JUPITER ® S K U T C H ® (ALL RIGHTS RESERVED)