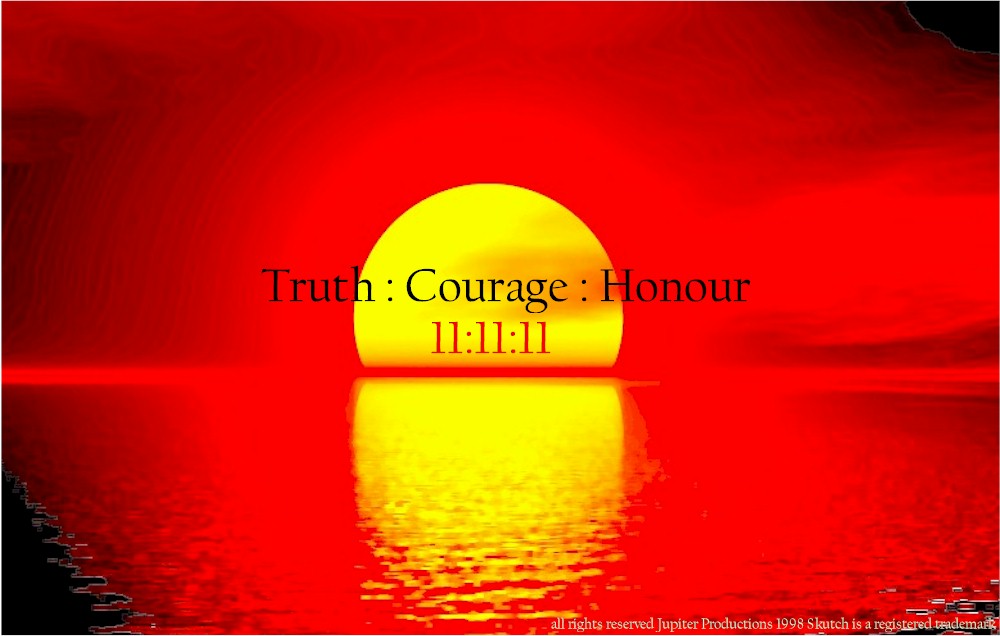 Amen 'al
11:11:11
Neither is a M whole without Woman; neither W without Man: neither a Prophet without the Sun
It was written that Man is great, he is a creator in life, a mere seed that divides itself, that forms the Son, but the soil of the given garden, the womb where the seed grew was described so worthless that the greatest creativity of the council of fraudulent scribes collating the holly scriptures was to present the gardens value as a coin - and in the Holly trio as a Ghost. What happened to our love for beauty, over this deity we lived upon - where did this non-sense come from: there is a need for direction in our lives as it is not very long. Great philosophers understood that a conditional form of Love between a Man & a Woman could only fulfil an expectation, a desire or more simply for the submission of one above another. True Philosophers say 'Love never causes problems for a Man's life' and that Love could only be a result of completeness, a partnership between attraction & conductivity - wholeness that formed in separate and accepting individuals who let the magic found
simply dance between them......
Our overly interpreted and collective texts though, it seems could only have then, developed a rhetorical meaning for natures true meaning that defies belief. The motivation to write such nonsensical texts could only be interpreted by the all consuming Ego that desired selfish pleasure and its plausible to consider that for some Men, their desperation was so great that submission could only be qualified by their pen. The Garden was scribed as the tempt stress over a man's life, and who's prototype being, a Woman alone had destroyed the garden of Eden by bringing greater problems into his problematic fearful life. If a Woman is acknowledged as the garden then all men would desire to complete her power more than any Ghost could in this life; for his Children's sake: and in the search for this greater wisdom the truth would bring security
and his greatest possible courage in life. .....
Power in physics came from Matter and when accelerated it provided Energy to collect. The Power in Matter 'y' though was incomplete, it was free but useless unless it had ignition 'x'. In numbers of many speaking the same conversation, the alignment of the Word collectively became a greater power; and as wholeness is required by nature, it could only be found when Matter was completed by many as One. Any indifference or equation that varied from a whole number One therefore was rhetorical and that vagueness, at some point in the journey through life left a blackened mess, found karma as a response or became the conditional truth that only served a few. The Word in story form has therefore been found to only provide solipsism
above both the Word & Matter......
If Men are taught that truth is so humbling, so overwhelmingly important to life then surly a Woman was his greatest asset. A Man who completed a Woman totally, could only then find Unconditional Love as his ultimate sexual experience that God gave to us all - to discover the power of One. Could men ever again understand that duality in life alone is incompleteness and that the collective power of Equilibrium was given by nature as our only prophet to survive. In Words that provide ascension, one thing is needed for this Planet's consciousness and that is to create a meaningful love story for her soil, sky & water. Can Earth feel the pain of our morally bankrupt intelligence? Matter was in abundance on this Planet, yet through forces similar to combustion, the Word of Men could not complete the foundations of life without
A Carbon state......
Spoken as words, preached in our liturgies and written into prescriptive texts, she again must become the true deity of matter and we all must rise above these many fragile words of uncertainty specifically attach pecuniary interest as the greater need in economy rather than our survival. Celebration of the unknown, the unspeakable God, delivers thoughts for the Dreamtime - as the creativity yearning to plan a better life without texts of fraudulent scribes who we have lived so dammed by, for such a short period of time. Amen is for all people, and as an expression in faith in unconditional love of this Earth. By acknowledging our skill for innovation we are again and again enlightened by words that we are here in paradise alive on the garden of Eden. In the age of communication it is reasonable to consider the collective power of life will ultimately find nirvana and finally overcome the controlling forces of Man's time without space - and with intelligence for peace we will find that conditional love is specific, to control the majority - yet inefficient for our children's future.
this World will be Changed - Amen'al......
© C O P Y R I G H T J U P I T E R P R O D U C T I O N S 1998 SPINNING AROUND IN JUPITER ® S K U T C H ® (ALL RIGHTS RESERVED)