Skutch was formed in 1991 by Mark Howard (Howie) and Paul Oswald (Ozzie). `We started out making music on a Thursday night. From the start it was Covering songs which we loved and Ozzie & I had such different,tastes.'
In 1997 the name Skutch was taken as our band name and we had about 12 songs for our first CD `Long time coming'. We entered the studios and introduced ourselves to Ian Pritchett who owned Noisegate studios. `I said G'Day to Ian and apologized for what we were about to make him record.' But he was a great person and the recording went well. After a big learning curve we finally got the CD together. Ian also regularly plays Bass guitar for us on our new music.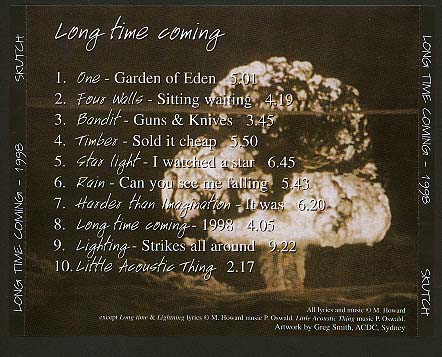 Around 1998 Howie started to write an immense amount of new lyrics and melodies. `I remember hearing the song Rain for the first time. It was just me and Howie and he had this awful zoom effects pedal which gave an eerie delay. I was playing the drums and the sounds were very inspiring.' The second album came together in August 1998 and was finished in the end of Summer 1999. `Spinning around in Jupiter' was a Rock opera. `I wrote all the songs to form a story of a Boy that changed the World.' The melodies and different styles of music were prolific throughout the CD and this style is what the Skutch music is reflecting from our personal tastes. Ben Price came to play with us as a lead guitarist. `I had known Ben for a long time since he had started guitar and was so impressed by how much he had learned in the few years he had been playing'. Another person we admired was Craig McGregor who also played lead guitar and Violin for Seattle Sound. `I asked Craig if he could add some colour to some of my songs and he blew me away. Craig and Paulo could play off each other lick for lick. It was so exciting to see the construction of my songs and the partnership added so much'.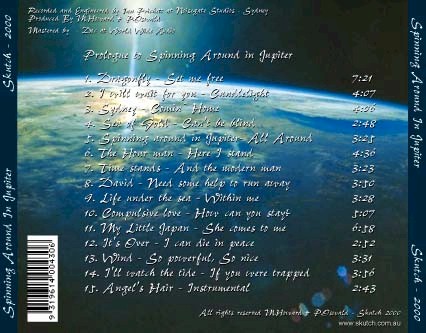 With the third album under way at the end of 2000 and we recruited Matthew Gogarty to do the drums for the `Sun Sex Sand and Charlie Chan' album. `I used to watch this young bloke (Human metronome) play drums for Seattle sound and thinking he is the best drummer I have ever seen. We had Gogo's come for a Thursday night jam and it changed the whole structure of our music. It became tight and surreal'. The third album had 15 songs and was recorded live to maintain the live feeling in the music. Triple M Sydney picked up `Wasted Peace of Mind' as the homegrown song and finally Skutch had Radio play in Sydney.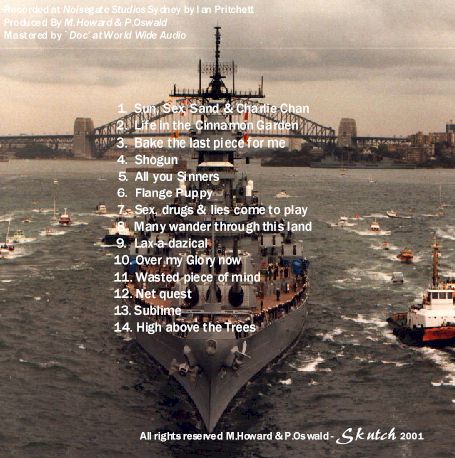 In 2001 Craig had a riff that took our fancy and this developed into a new EP type album `A moment of weakness' was recorded. `Each time we played Another moment of weakness ' we were magically in another world with such a powerful song. I could see it on everyone's faces. We would just close our eyes and play. We did this song subliminally and recorded it the same way.' Howie approached John and Mal from Seattle Sound to record the vocals for two more of the songs ' Bitched ' & ' Diamond Smile ' which came out as expected and gave the Skutch brand a broader sound which was needed at the time.
With some new influences 2002 saw a start of a new fated album `Sympathy love & religion have taught me Fear' that was to be our fifth studio effort, however this album still continues as this is proposed to be our next theatre rock show. `The music I was listening to was so R & B. Sort of jazz fusion with 80's melody lines. I had a couple of new riffs and set out to make an album with a new Skutch sound'. What followed was 18 new songs from fully orchestrated Plastic ships to the R&B sounds of I'm on my own again. `A couple of songs we released took off on MP3.com and I'm on my own again held the No:1 spot for a many weeks.' Howie laid down all the songs in a personal effort and at band practice each week would play them for the rest of the guys to acquaint themselves with the new style. `One of the songs, Howie asked Sally Cooper to sing. ' Hooker ' gave us new people to play with and the song was huge'.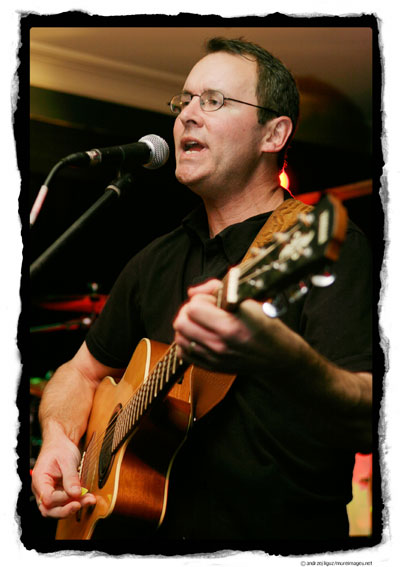 The Winter of 2003 came more new sounds. `I was listening to a lot of new Indie type music like Pearl Jam & Greenday on the radio and I loved going along to see my friends play a covers show at the Tavern in Sydney. I also got to sing live with a great band . A lot of the bands I liked were grungy instrumentally but warm in the melody line. Sort of heavy with great changes in the sub-verses.
Craigo had this warm up riff and he kept saying `Smoove' just after he'd finish playing it. I started to write a lot of music in Eb tuning and we came up with the title and a whole lot of songs for the sixth studio album for Skutch.' Together with the main content which Howie wrote Craigo came up with another pearler A time for courage that is in our new theatre show.
Summer of 2005 and Howie started the financial planning for:
`Spinning around in Jupiter'
with the Enmore Theatre in Sydney. This `Rock Opera' is based on the story concept of `Sean Jupiter' and Howie's original recordings. The cast and story has now been developed with 22 of our songs. The musical score for the pit orchestra we engaged ex CBS A&R chief and Julliard trained arranger Sven Libaek and we decided to make a ten song release named ' The Jupiter Project ' to show off Orchestration. `I can't wait and see the opening show and the attention the show attracts. There is a huge need for a new original musical journey and we are developing the show right now.' We also employed the top class talent of one of England's finest Theatre singer Nigel Richards and local talent like Brooke McClymont, Malcolm Kerslake & John Perry - All are sensational artists and are featured on this album
A Theory of Conscious Change
In 2008 the demo tracks for `Sympathy Love & Religion Have taught me Fear' continued and this album has continued up but as two Worlds collide we were displaced from our long held recording studio home, still together but homeless. Our band room disappeared and we searched practically for new direction more low key but deepen, into a more relaxed stage. Still fulfilling though as music is everything when you have nothing.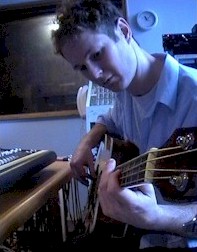 2010 started well with a reincarnation of a new space we all loved so much and Ozzie's brother set us up in his factory: like riding a surf board or a bike we started playing again each Thursday night, with many more Children and even Grandchildren, we are still kids ourselves, but again our main focus is living for the moment having the best night of our lives each week.
The Skutch web site now has focus on Theatre production, Human rights & business programs for the Micro-Community development. We have remained Independent purposely from humble beginnings and have grown to a specific Indie audience being downloaded Internationally. Patricia has written a collaborative set of lyrics and the Patience album may be underway one day soon which has to be released as a Vinyl LP record. I have much focus for this album as the lyrics are deep, meaningful and sensitive, and with real musicians playing real instruments and recording the album live to capture our magic of the band for improvisation and building on, themes of music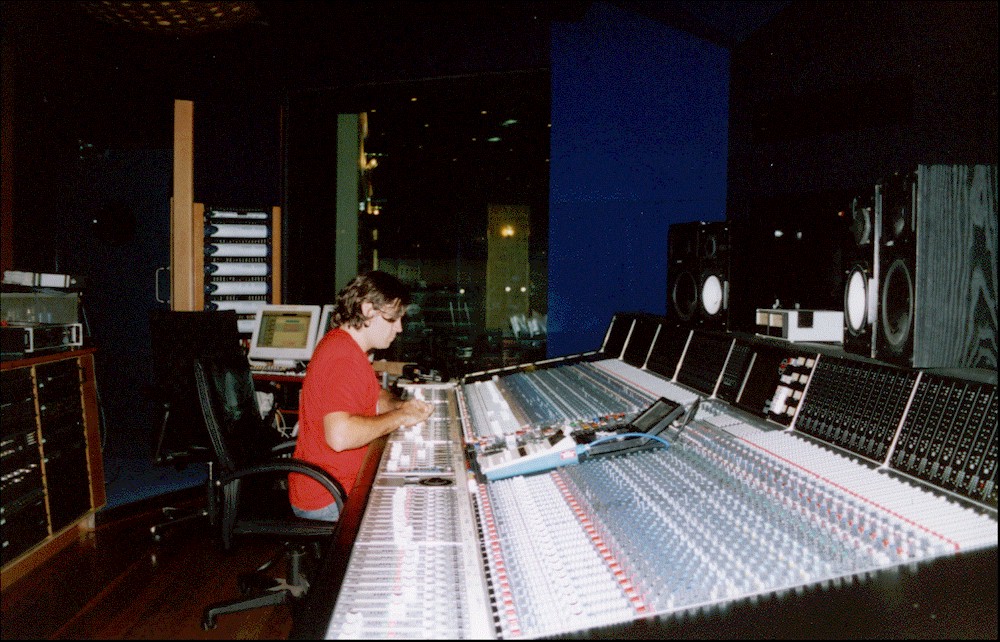 The start of 2014 sees the over two decades of music for Skutch.
Our band has a great history. One which I should endorse, our songs are played over 30,000 times a month. Being one of the first Aussie bands on the internet since it started, having many number one Indy chart spots online with MP3.com which was Alanis Morissette's baby. These charts showed many notable bands when they first started, like Greenday, Linkin Park and Pearl Jam and nobody in Australia knew we even existed, but the internet in the nineties was in its infancy. Wasted Peace of Mind was downloaded over a million times & Triple M Sydney played it on Homegrown. We have completed the pre-production for a Rock Opera style musical. We had played with many exciting people including the Hartle strings, Julliard trained Sven Libaek, members of the Sydney Symphony Orchestra and also recorded at studio 301 where many huge Aussie artists had started their career. We have over seven albums under our direction. We've played many gigs but the most memorable are McDonald House for children and The Enmore Theatre. Both linger as great memories.
If you are a musician you can appreciate that an Indie existence is so very exciting - just to participate in what we all love, in living for our Art. We are the luckiest Muso's in the World. In 2020 we plan to tour again and we are ready to release our Musical to the World and specifically for the Children of the World, to help Singularity of one blood find intelligence and conscious change for the future on this lonely Planet.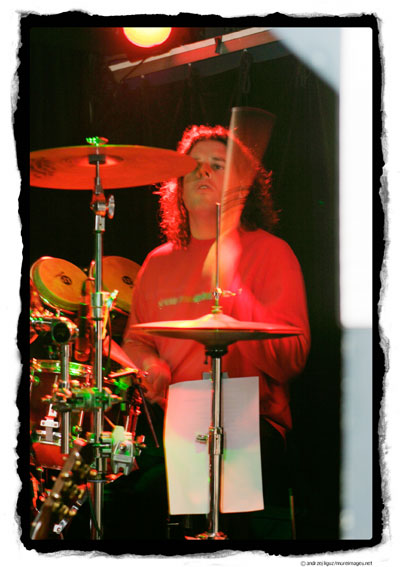 Howie - I just love for writing words, playing simple melodies and creating rich lyrics.
' Oz & I love to sing and play Guitar more than anything else. I could enjoy myself anywhere as long as I can sing and make some Good noise of course! ' The people I have been luck enough to be associated with and get to play with each week are the most talented and gifted musicians I have ever met and I love each one of them like family. If I never achieve anything else in life I will die a very happy man. Each Thursday night is the best night of my life influenced by any music and I must say that Midnight Oil is my favourite band. Having said that I love many styles.
Ozzie - Played guitar since he was ten. Influences are his personal collection of bands from King Crimson through to XTC. Ozzie Plays drums for the first Skutch recording, bass on the second and plays with all the instruments in our room each Thursday night. If there is anyone missing from the band then Paul can do that part; music is Paul's passion. `My brother in music and the nicest guy you could ever meet. I think the hospital took him away from me at birth, cause I'm sure he is a part of me.'
Ian - 'EOR' has played recorded and engineered many international and festival gigs as well as putting time aside for the Skutch movement of improvised rock and engineered all of our albums. He was so patient with us on the first album Long Time Coming it really kept Ozzie and my nerves down. He is a good producer and takes his role with passion. Ian has owned and operated Noisegate studios for 15 years odd and he has an enviable reputation with artists like The Beautiful Girls, Haley & Lewis, Regurgitator and many others. He received a gold record this year for Haley & Lewis first album at Noisegate which has gone platinum recently. He currently tours with Matt McHugh. I could not thank him enough for his friendship and direction.
Pat - A dam fine drummer. You have got to see this guy play it is inspirational. The rhythm section of Skutch is very good! We all feel like we are talking to Pat through telepathy when we play. Some of the best nights have been when Pat comes in, We change, We change again, We slow it down, We pick it up and then we have a huge finale. I had not played with anyone who had this ability till we met Pat. Go Patto
Craigo - Trained at the Conservatorium of music Sydney in Violin. An awesome guitarist. Craig always makes sure we know our stuff when we play live. A very colourful musician and a perfectionist. `I remember the first night we recorded together. It was for the song Timber of the Long Time Coming album. He played the second time perfectly and then said `Fuck' and made this incredible string of off the wall notes.' I said that is the take and he looked at me really strange. I said to him That was fantastic and that's what I want. To this day that song gives me the chills with the brilliance from a fine musician.
Simo - Simon has been a musician all his life and I want to especially thank him. As in life the ebb & Flow gives the highs and the lows. I think I can safely say that we have helped each other in music, personal emotions and Karma. Simon is a consummate drummer but loves the Bass and what a rig he has. He is also a collector of Guitars and a die hard rock star. He is influenced by Matt Finish, Midnight Oil and other Australian bands. He is a true hero.
Frosty - Frosty is a recent addition to the Skutch line up. Frosty has measured up to the members in a huge way adding so much to the overall sound quality of the band by adding another flavour. His history is from Lismore band Claymores, Sydney band Shimmer and loves the Skutch live and theatre commitments. He is a cool dude and we look forward to many more nights with Frosty the edge.
Marciej - Said `Marchett' Aria award winner for mastering and mixing. A good friend of the band and a great bloke. I can't wait to see him for our next mastering session. There is rarely a person who is this passionate about music.
Sven Libaek - Sven is Julliard trained and a wonderful composer who had toured the world with his music & film of the Windjammer. He was a great support as our music director for the stage show. I wanted to mention a big thank you to Sven as he has provided so much professional help in producing the orchestra arrangements and score for the Spinning Around in Jupiter show.