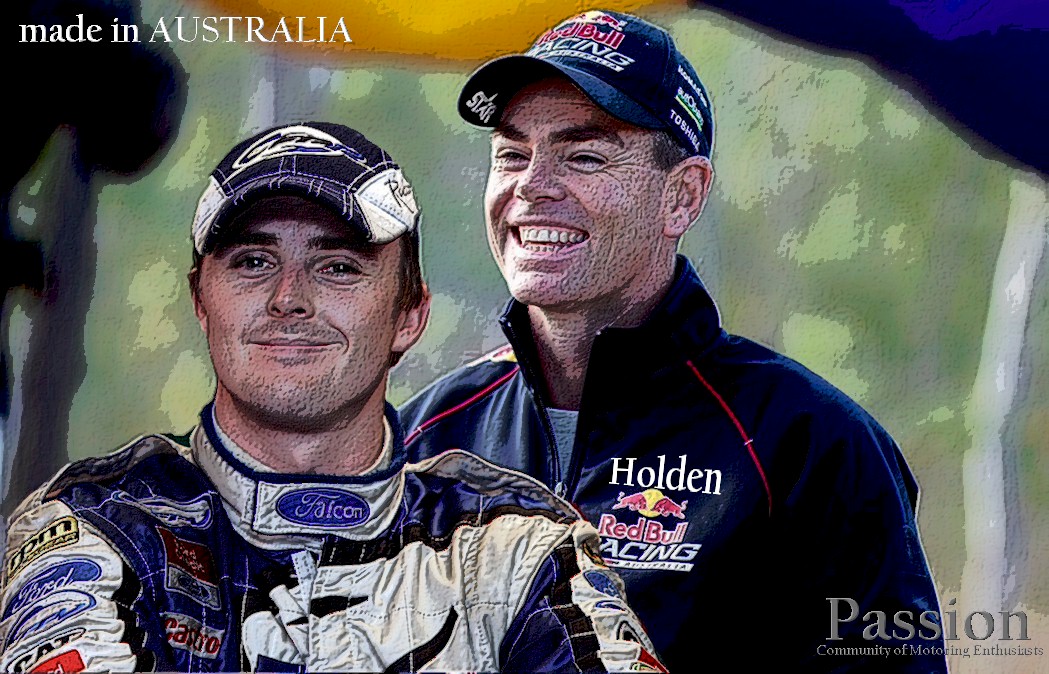 made in Australia
A Resonate Tone
11:11:11
We need a couple of Enzo's here fella's - the Dreamtime of V8 Supercars is unique, novel and of Worldwide acclaim - it is that good. We love these Aussie Cars, our amazing V8 supermen, pushing the limits of Engineering - we won't be losing all that equity value in people, property, engineering equipment and infrastructure because the fans didn't care. Please mention to the press that over four million enthusiasts are the ninety nine percent of your story, and how, such brands Holden & Falcon would subscribe overnight if listed for the people. It is the Leader who will rise above this Drama to lift the veil over 'what is possible?' for manufacturing in Australia - but where are those Leaders we ask? those with charisma? who could lead the people towards an immortal victory similar to Enzo's life long passion building cars that integrate dreamtime with racing, quality manufacturing over quantity - more genius was his ability to start a discussion, in such sovereign affairs offering a prospectus to attract many enthusiasts to such qualities of character, to built Italy an Icon from nothing.
Hundreds of thousands of Good people need their job back......
Nationally, decades old associated skills are becoming redundant. Old mate & sister - we built these Cars here in Australia for eons that's made V8 Supercars so special, made your career so special. The directly skilled, hands-on people are a but fraction of the predicted fallout this economic course provides. Was it possible though, a lot of people could open the door to Holden & Falcon in Trust; as an unparalleled investment platform for enthusiasts, Jobs secured by passionate investors, for Science, more University involvement & balance sheet growth, a game theory, in Quality products & innovation for Super-car repatriation projects of an enormous scale.
2020 - Then a Hero comes along.......
We can't make mass production automobiles for overseas markets, but we sure can make Quality and if we followed our hearts into unique and beautifully engineered products of value, we may surprise ourselves to entice a tiny part of Industry Super to back a share offer and ironically all the material resources are all here at our doorstep. There is no point trying to compete against the cheap mass produced markets. Automotive workers could use those $ billions that flowed overseas to support a future Car Industry here; and if listed on the Australian stock market, these two listings, named here - would subscribe overnight, guaranteeing a purposeful future aligning branding with our number one sport & two most loved characters.
Generous dividends for elderly shareholders struggling on low interest rates......
It must be relative to consider Cars are now running on salt water and manufacturing is implementing innovations like 3D printing, electric town cars, Hemp composites and so much more that the possibilities are endless. Henry Ford built such a car. Components that can actually be grown, while regenerating soils, making fuels and capturing C02 from the skies. There must be a lack of Academic Dreamtime for Australia's future when we are growing so many highly skilled University graduates who will be left with no design & development opportunities.
We have $2.5 trillion earning nothing with low interest rates while gambling in algorithms.....
Holden & Falcon, listed here as Australian stock-market entities would not only subscribe over night just from the Bathurst crew, but also enhance the possibilities of new careers, TV shows, documentaries and after market businesses. There are 350 people out there for every one person in Australia and that brings grander thoughts of targeting Quality, Artistic design and unique development strategies to support our own Car Industry profitably - and that share offer should also be hedged against Australian precious metals and two guys who have to ability to start that discussion.
Our Economy can only grow, adding the Dreamtime......
© C O P Y R I G H T J U P I T E R P R O D U C T I O N S 1998SPINNING AROUND IN JUPITER ® S K U T C H ® (ALL RIGHTS RESERVED)